I knew when I came across Nomuu and couldn't help but go back several times in one afternoon to gaze at her beautiful pieces, that we needed to have her work with us at Dreamer.  I was beyond delighted when she agreed and had a happy smile the entire time I was doing her feature.  And, being we are Dreamer and all, we were overjoyed when she agreed to send us a little snippit inside her world and the inspirations that influence such whimsy!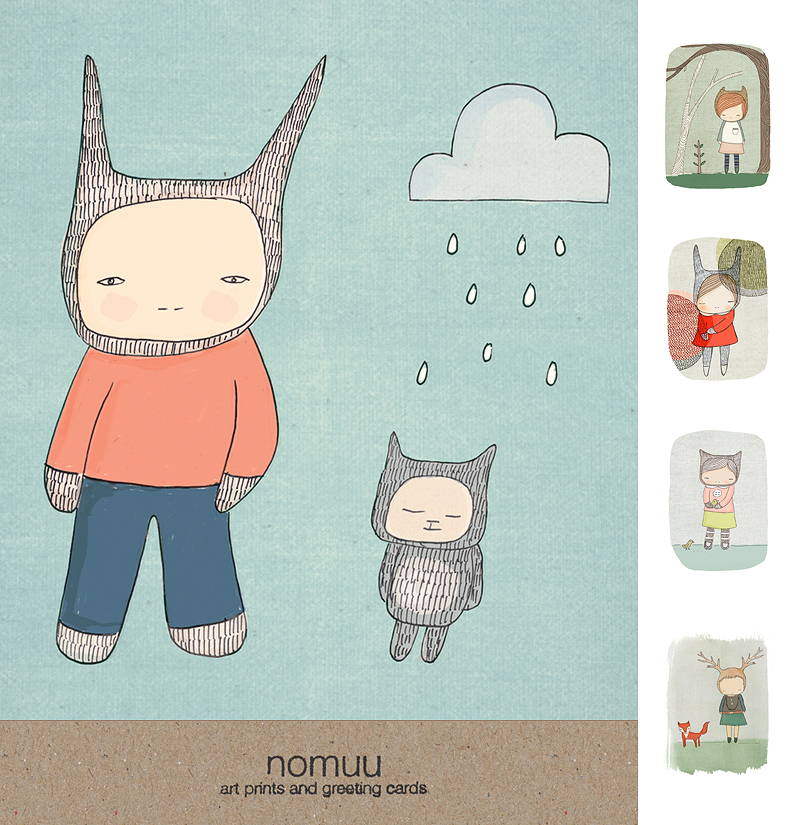 I started these illustrations as a little bit of a joke actually….sounds horrible doesn't it?. I was designing bags at the time and that was my focus, and then I saw people were selling art online, and thought, 'hey let me have a go at drawing something'. So after years of being petrified of drawing, I gave it a go and just let it flow. I then popped up some drawings up online on Etsy. Then just totally ignored them for a while, but then I noticed that people kept on asking about them eventually I realized, that my illustration work had found me.
People often ask me if there a some lovely back-stories to these characters and I unfortunately have to say, 'no'. The characters are really are just quick little random sketches that I draw and sometimes they work, sometimes they don't.
Having said that, I am working with a screenwriter where we developing script (hopefully for an animation series), and the character 'Livey' from the 'Lively in the woods', is one of the main characters. So she now has a story behind her, but it's all at 'hush, hush' stage
I really don't know exactly where the characters come from, all I can think is that they inspired from a little bit of everything in my life. Plus I am a big kid at heart.
I was definitely inspired from very bold, simple characters as a child, like Miffy, Madeline, Mickey Mouse and also Beatrix Potter characters (although I wouldn't call Beatrix Potter characters simple). I really love simple, basic design, nothing overly complex, and I think that shows in my characters as well. I mean that's what I was attracted to as a kid, and that's what stuck with me, so I guess I had follow what I gravitated towards.
I also use a bit of texturing in my illustrations. I use linen, fabric and paper in some of the designs, I think that came from my interior design studies. I knew someday the course would come in handy!
I also love animals and nature, that has always been a strong focus in any design work I do. I think that is inherently in me as well. There is something about nature that seems to work well with me.  I also work in a museum, so I have a lot of inspiration around me. I get to see amazing rare books of birds, mammals, I get to see hidden treasures that other people don't know about…and I have a whole lot of mammals (which I can draw reference from) and dinosaurs downstairs to say, 'hello' to
Starting these illustrations has taken me on an amazing journey of self discovery. I've learnt to give things a go, to stop being so hard on myself, I know what works suits me and what doesn't. It also has helped me believe in myself.
So if I can give any advice to anyone wanting to peruse something creative, I say do it. Try anything and everything, and you just may be surprised to find out what you are good at.
You can find more from Nomuu in her store: www.shop.nomuu.com, on facebook: www.facebook.com/nomuu and on her tumblr: www.nomuu.tumblr.com
ps… The winner of The Happy Family Movement Winter Adventure Guide is Nicole LoBlue!! Stay tuned for more give aways coming soon!!!