Our friends over at The Happy Family Movement are having an incredible sale on their products.  We bought the "Adventure in a Box: Road Trippin'" for a long road trip a couple of years ago and it was the best way to pass time, have fun and keep everyone's spirits up and excited!!
What's it about?
You want to take a family road trip, but you're scared.
What if my kids are too young for this?
What if everyone gets cranky simultaneously?
What if we run out of fun activities?
What if we get lost or bored or just wanna go home?
We've got you covered. We take road trips several times a year with small children AND we love doing it!
The Road Trippin' edition of our Adventure in a Box series comes complete with a manual that walks you through our planning process from beginning to end.  That includes choosing where to go, what to pack (and what to leave behind), how to make the most of each day, and what to do when everything goes south all at once. (Hint: it involves our very best pulled-over-by-the-side-of-the-road-game.)
The Road Trippin' box also includes activities with detailed instructions. Lots of 'em. All wrapped up and assigned for specific times of day during a seven-day road trip. Our activities build fun right into your family outing.
Your family + our Road Trippin' kit = a fantastic adventure.
Upon the purchase of your Road Trippin' kit, you'll receive an instant download of the Adventure Guide, and an e-mail with further instructions within 48 hours.  Happy Adventurin'!
(us having fun with our box)…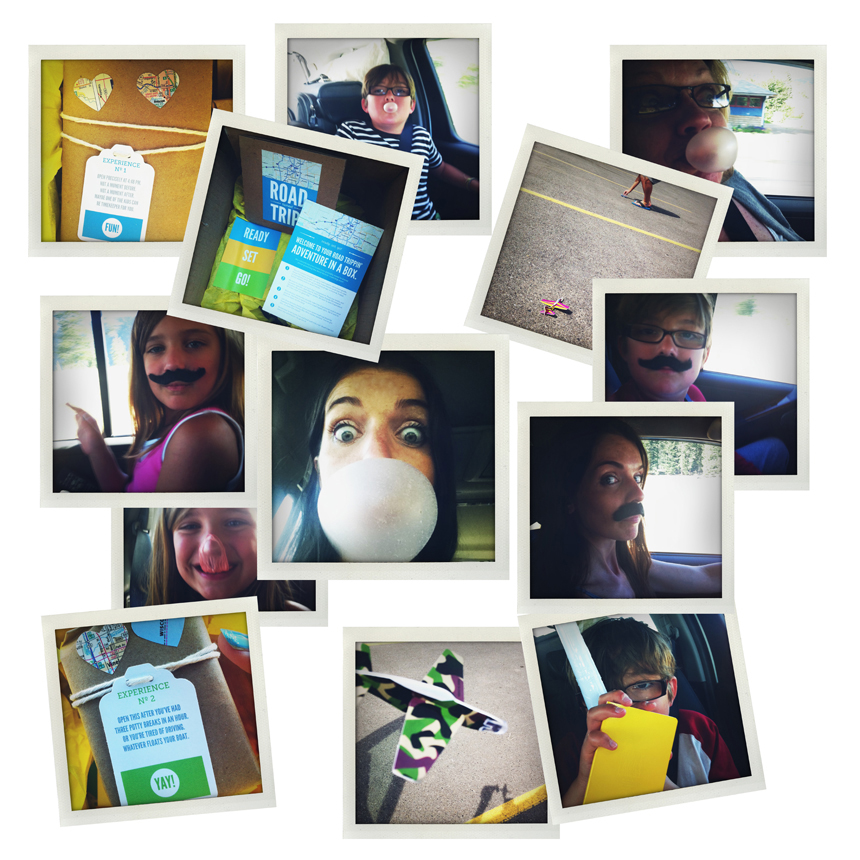 It is normally $129 (which was worth every penny) but now it is only $39!!  Trust me, the best $40 you'll spend on your next road trip
They have also got amazing deals on all of their adventure guides (as low as $1).  Head on over to their products page and check out all the fun you can be having this summer!!